Liverpool have taken their place back at the top of English football in 2019/20, sealing the Premier League title and a first in the modern post-1992 era.
Here's a look at the eight clubs with more than five English league titles. Those on the same number of titles are ranked by recency of win.
---
1. Sunderland - 6 titles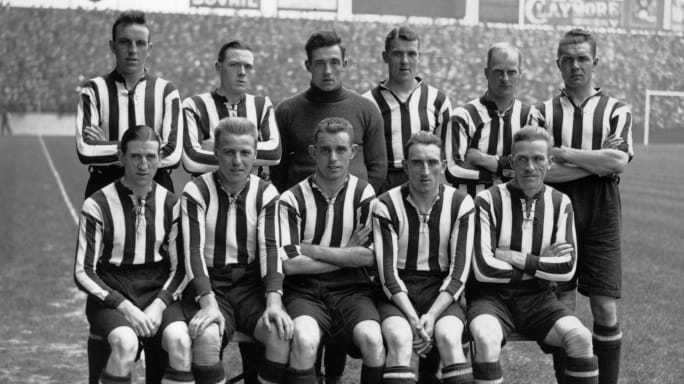 Titles: 1891/92, 1892/93, 1894/95, 1901/02, 1912/13, 1935/36


Sunderland were one of the original giants of English football and were only the third club ever to be crowned Football League champions way back in 1892. That triumph was followed by two further title wins that decade alone.


Sadly for Sunderland fans, there have been no more since the Second World War and the last of their club's six league titles came in the 1935/36 season. It means only supporters at least 90 years old will be able to remember the Black Cats as England's best.


2. Chelsea - 6 titles
Titles: 1954/55, 2004/05, 2005/06, 2009/10, 2014/15, 2016/17

All but one of Chelsea's six league titles have come in the Premier League era, and all five of those have come after Roman Abramovich completed his 2003 takeover.

The first two Premier League titles in 2004/05 and 2005/06 came in astonishingly dominant fashion under the guidance of manager Jose Mourinho.

Chelsea's very first title, meanwhile, was half a century earlier and should have made them the first English club to have competed in the European Cup, only for pressure from the FA and Football League to force their withdrawal.
3. Manchester City - 6 titles Titles: 1936/37, 1967/68, 2011/12, 2013/14, 2017/18, 2018/19


Manchester City are another club to have benefited in recent years as a result of a wealthy owner and substantial investment, with four of their six titles won in just the last decade.


City had to wait 44 years between league titles in 1968 and 2012, beating neighbours Manchester United to the punch on both occasions. Under Pep Guardiola they have taken things to new levels, recording a combined 198 points during their last two title-winning seasons.

4. Aston Villa - 7 titles
Titles: 1893/94, 1895/96, 1896/97, 1898/99, 1899/00, 1909/10, 1980/81


Sunderland's achievements in the earliest years of English league football were bettered only by Aston Villa, who were the country's most successful league club by 1900 on four titles, while they were also the first champions of the 20th century.


Villa had won their sixth title by 1910, but it was then another 71 years before they got their hands on the league trophy again, which also remains their most recent. It did, however, also yield a European Cup triumph the following season in 1982.

5. Everton - 9 titles Titles: 1890/91, 1914/15, 1927/28, 1931/32, 1938/39, 1962/63, 1969/70, 1984/85, 1986/87


Coincidentally, Everton were England's reigning champions when football was suspended for both the First and Second World Wars, having finished top in 1914/15 (almost a year after WWI had already started) and 1938/39.


The Toffees had an incredible chance to win the European Cup during a golden era in the 1980s, especially during Gary Lineker's time at the club, only for English sides to be hit with a blanket ban from all European competitions following Liverpool's involvement in the tragic Heysel disaster.

6. Arsenal - 13 titles Titles: 1930/31, 1932/33, 1933/34, 1934/35, 1937/38, 1947/48, 1952/53, 1970/71, 1988/89, 1990/91, 1997/98, 2001/02, 2003/04


Arsenal were the second club in English football history to win three consecutive titles back-to-back, doing so in the 1930s. That dominance was kickstarted by legendary manager Herbert Chapman, who also had a hand in Huddersfield's 1920s 'three-peat', but he died suddenly in 1934.


The Gunners' current title drought will be 17 years next season, which is still actually shorter than the drought that existed between the 1970/71 double year and the dramatic 1988/89 title race.

7. Liverpool - 19 titles Titles: 1900/01, 1905/06, 1921/22, 1922/23, 1946/47, 1963/64, 1965/66, 1972/73, 1975/76, 1976/77, 1978/79, 1979/80, 1981/82, 1982/83, 1983/84, 1985/86, 1987/88, 1989/90, 2019/20


Liverpool were the team to beat in England for most of the 1970s and 1980s, winning six out 10 titles in the latter decade alone. But their dominance came to an end in 1990 and it is only now that the lengthy drought of 30 years has been broken.


The Reds have had several near misses in the Premier League era, but Jurgen Klopp's side set the division alight in 2019/20 in a way that even the most dominant clubs in history have never managed. The question now is whether they can catch the only team who has been more successful.

8. Manchester United - 20 titles Titles: 1907/08, 1910/11, 1951/52, 1955/56, 1956/57, 1964/64, 1966/67, 1992/93, 1993/94, 1995/96, 1996/97, 1998/99, 1999/00, 2000/01, 2002/03, 2006/07, 2007/08, 2008/09, 2010/11, 2012/13


Manchester United remain the single most successful club in English league football history, with 20 titles to their name, 13 of them in the Premier League era alone. It was a record they took from Liverpool in 2011 when they moved ahead of their north west rivals after years chasing them down.


United owe most of their success to Sir Alex Ferguson and Sir Matt Busby, who account for 18 title wins between them, and only one other manager – Ernest Mangnall – has delivered a title. They have also had notable lengthy droughts at various points in their history.

---
In addition, the other winners of the English top flight since 1888 are: Newcastle United (4), Sheffield Wednesday (4), Wolverhampton Wanderers (3), Leeds United (3), Huddersfield (3), Blackburn Rovers (3), Preston North End (2), Tottenham Hotspur (2), Derby County (2), Burnley (2), Portsmouth (2), Sheffield United (1), West Brom (1), Ipswich Town (1), Nottingham Forest (1), Leicester City (1).
---
For more from Jamie Spencer, follow him on Twitter and Facebook!
Source :
90min